03 Feb 2023
UAE Minister of AI and Digital Economy looks at converging Metaverse, Blockchain, and AI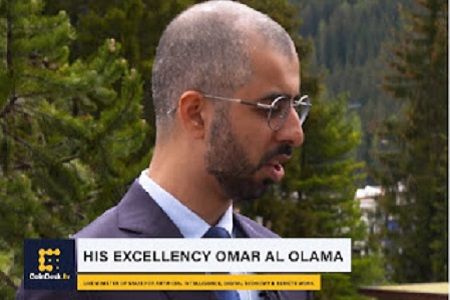 During the World Economic Forum in Davos, CoinDesk carried out an interview with UAE Minister Omar Sultan AlOlama, Minister of State for Artificial Intelligence, Digital Economy and Remote Work.

Some big takeaways from his interview that I found interesting were the following. First he noted that he was pleased to see more and more governments embracing crypto and finding use cases for it. He also noted that Blockchain had become more popular and as he stated, "This is good for everyone because you can build a more trust based society that will take us into Web3.0"
He also made a comment that while most governments just talk about AI (Artificial Intelligence), the UAE is actually walking the talk. He states, "The UAE is taking a proactive role to regulate and deploy AI in environments and is working to attract AI startups." He believes given the diversity in UAE demographics AI systems developed in UAE will be less biased towards specific ethnicities, genders, etc.. He also states that the UAE with its cutting edge infrastructure and its diverse economic sectors has a volume of data that could create a globally first AI Company from UAE.

According to Olama, the digital economics will be enabled by AI and Blockchain.
When asked if UAE was seeking to become a crypto hub, he stated that it was already a crypto hub in the region and one of the few leading crypto hubs globally. He noted, " We need to do what people want and for some reasons people have chosen to embark on a crypto journey, some have invested their life savings in crypto. Today crypto is high risk but eventually it will mature, so as governments we either take a back seat or we become leaders. We need to ensure there is no money laundering, no pump and dump trading schemes. Yet given that this market is nascent there will be mistakes and we need to inform public as much as possible to the risks, ensure no illegal activity is happening."
Olama believes that the biggest aim is to attract crypto talent which is among the best globally because they are building and securing Web3, building metaverse, payment gateways, and other solutions. UAE wants to enable them and create the right environment for them. He notes how both Polygon Blockchain and Binance crypto exchange have relocated to UAE.

He believes that the regulatory environment in UAE, is one where the regulator views companies and entities as innocent until proven guilty, ensuring the right checks and balances while being agile and nimble.
In his final remark, he notes that at Davos, " I am interested in seeing how the metaverse converges with Blockchain and AI and how this will look and use that to launch the right strategies and programs back in the UAE."
Source: Lara On The Block