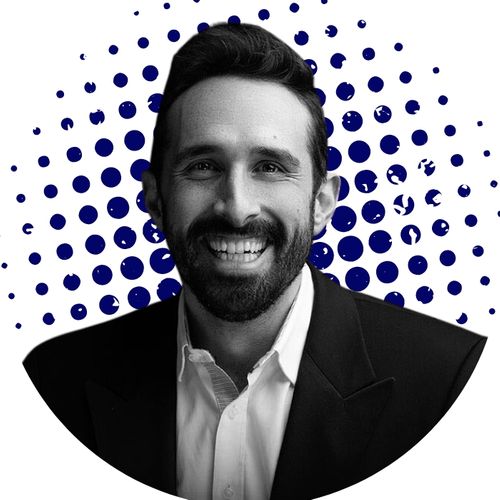 H.E. DR. Rolando Zubiran Robert
A Pioneer in Economic Policy, Innovation, and Creative Economies
,
MESMR
Dr. Rolando Zubiran Robert's extensive background in economic policy, experience economy, and innovative technological solutions positions him as an asset to FBS. With his proven leadership in spearheading nationwide development programs and successfully implementing transformative initiatives in the area of Experience Economy, he brings a wealth of expertise to the table. His ability to manage budgets, leverage international resources, and integrate technology aligns perfectly with FBS's mission of fostering connections, knowledge exchange, and partnerships within the creative ecosystem. Dr. Zubiran Robert's insights and strategic vision are poised to contribute significantly to the platform's objectives of driving innovation and growth in the global creative and marketing sector.
Dr. Rolando Zubiran Robert is a distinguished figure with a remarkable career spanning government, enterprise, and innovation. With a wealth of experience in economic policy and development, he has devoted his expertise to fostering entrepreneurship, technological advancement, and innovation to drive regional sectorial growth.
In his impressive journey, Dr. Zubiran Robert served as the Minister of Economic Development for the Government of Nuevo Leon, Mexico. During his tenure, he played a pivotal role in shaping the economic landscape of the region. Furthermore, as the Director General of the National Institute for Entrepreneurship in Mexico, he oversaw strategic clusters and regional development, leaving an indelible mark on the entrepreneurial ecosystem.

Dr. Rolando Zubiran Robert's leadership extended to spearheading nationwide development programmes in Mexico, spanning diverse areas such as poverty alleviation and crime prevention. Managing substantial budgets, he adeptly harnessed assets and funds from international organisations to implement impactful aid initiatives in underdeveloped regions. His expertise covered regional development, housing planning, and urban development strategies. As a pivotal member of the organising committee for Mexico's Smart Cities Expo initiative, orchestrated by the Ministry of Economy, Dr. Zubiran Robert played a crucial role in integrating technological solutions into clusterised development. His achievements encompassed the successful implementation of programmes ranging from industrial value chain integration to the formulation of regional cluster developmental policies, emphasising his dedication to comprehensive and transformative progress.

Dr. Zubiran Robert's influence extended internationally as he contributed to significant diplomatic efforts. He was a key member of the workgroup tasked with Small and Medium Enterprises (SMEs) for the negotiation of the United States-Mexico-Canada Agreement (USMCA), also known as NAFTA 2.0. His contributions were vital in shaping trade relations and economic policies on an international scale.

Beyond policy, Dr. Zubiran Robert is recognised as a trailblazer in the realm of technology and innovation. As a Deep Tech Investor and WEB3 & Blockchain Business Ideation Consultant, he has displayed a remarkable foresight into emerging technologies that are reshaping industries. His advisory role to multinational corporations and high-performing organisations has been instrumental in navigating the ever-evolving landscape of technology-driven business.

Among his entrepreneurial accomplishments, Dr. Zubiran Robert is the visionary Founder & CEO of MESMR. This innovative Immersive Economy solutions company harnesses technology to create immersive, intelligent, data-driven experiences that enable companies to connect with the next generation of consumers. His leadership at MESMR exemplifies his dedication to revolutionising the way companies engage with their audiences.

Furthermore, Dr. Zubiran Robert holds a significant position on the Board of Beacon Media, a global media and entertainment company co-founded by Deepak Chopra and Manoj Narender Madnani. This Dubai-based company employs a data-driven, technology-enabled approach to media production, distribution, and allocation. With a focus on financing films across diverse regions worldwide, Beacon Media is at the forefront of the entertainment industry evolution.

In the media and entertainment industry, Dr. Zubiran's influence is evident as Executive Producer & Head of Web3 Experience Economy for Pirexia Films. This production company has been responsible for creating impactful films and documentaries, including award-winning works such as "Olimpia" (winner of an Ariel for best feature length animated film) and "Corazonada" (featured in Rotterdam Film Festival and the International Film Festival at Los Cabos).

Rolando is an esteemed member of MENSA International's High IQ Society, a testament to his exceptional intellectual capacity. He has been recognised and honoured by various organisations, including the United States Department of Commerce, which awarded him the Star Partner Award for his exceptional contributions.

Dr. Zubiran Robert's academic journey is equally impressive. He holds an MBA from the University of Oxford, a Singularity University EP in Emerging Technologies, a Master of Economics and Public Administration from the London School of Economics, a Master in Public Affairs from Sciences Po in Paris, and a PhD in Public Policy from the Graduate School of Public Policy at Monterrey Tec ITESM.

In his commitment to knowledge dissemination, Dr. Zubiran Robert serves as the curator of the MIT Sloan Management Review Mexico. He also imparts his expertise as a professor at EGADE Business School, where he teaches courses on Web3 MKT Blockchain and DeFi, and at ISDI Mexico, where he educates on Digital Business and Entrepreneurship.
Dr. Rolando Zubiran Robert's life story is one of exceptional accomplishments, marked by a dedication to economic advancement, innovation, and education. His contributions resonate across sectors, continents, and generations, making him a true visionary and pioneer in his fields.