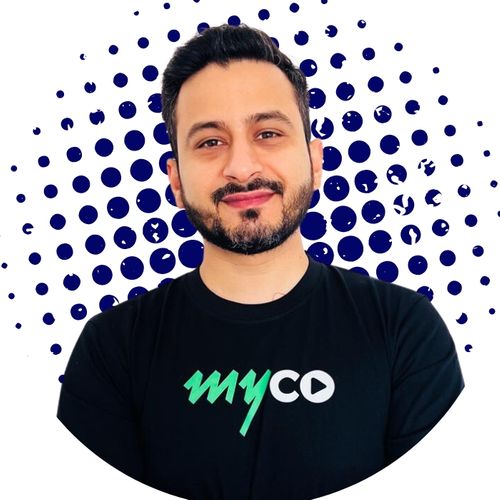 Umair Masoom
Founder & Managing Partner
,
myco
The Founder & CEO of myco ( Formerly MContent) is a globally recognized marketing leader with almost two decades of cross-cultural business leadership experience. Umair has an extensive background in Marketing & Business strategy, Digital Transformation and Innovation, Media, Entertainment, Sports Broadcasting and is a true believer in disruption through the Blockchain & Web3. Through his career he has worked for some international brands from the media & entertainment, banking & financial services, automotive as well as hospitality sectors. Within the media & entertainment sector, he has held leadership positions in different media entities as the Commercial Chief for different content genres such as TV Drama, Sports, Infotainment, Live Entertainment and Public sector broadcasting. During his career, he also spent 7 years as a Banking and financial services marketer in the position of "Head of Marketing" for several financial sector entities where he had worked on global fintech partnerships, financial inclusion initiatives, global remittances, and digital banking solutions with some of the biggest global & regional brands. His last held position was being the Group Chief Marketing Officer for Gargash Group - one of the leading Business Conglomerates in Dubai, United Arab Emirates where he was managing the marketing portfolio of more than twenty international & regional brands including Mercedes-Benz, Daman Investments, Alfa Romeo, SIXT Leasing, GAC Motor, Gargash Real Estate and several other brands in multiple business sectors.
He came up with the proposition of a decentralized content economy in early 2021 and was able to launch the brand through a crypto launchpad based ICO in June 2021 with the support of an initial seed investment round that was mainly led by his employer Gargash Group. Later in the year, myco completed its Pre-Series A funding round after which Umair had moved as the full time CEO of myco and he also invited all the founding team members of myco; that were scattered globally; to join the myco Dubai office.
Umair comes with a prolific educational background because of his commitment to continued learning despite his humble beginnings where he started his career two decades ago as an advertising sales executive for a small-time magazine. In addition to his MBA and BBA (Honors) degrees, Umair is additionally qualified as a "Chartered Marketer" from Chartered Institute of Marketing, UK and has completed a two year "Accelerated Leadership Executive Programme" from Hult Ashridge Executive Education, UK. He is also qualified as a "Certified Islamic Finance professional" from National Institute of Banking & Finance, Pakistan and he had also studied "International Journalism" from London School of Economics, UK. Through the years, Umair has also written several blogs for different online publications and has been a visiting faculty member of Marketing at several Universities with more than 10 years of collective teaching experience.
As a blockchain and web3 enthusiast, Umair started researching on the crypto industry as an early Bitcoin investor & trader in 2016 building a significant portfolio of cryptocurrency holdings over the years. He has been a prominent speaker in Web3 space and has been a key-note speaker & panel member in industry events across UK, UAE, USA, Europe and Asia. He is the Executive Producer of two of the most globally recognized documentary films in Web3 namely "El Savador vs. World Bank" and "Ripple vs. SEC Saga" – stories which were both originally conceived by him. He also founded the trend of utility driven NFTs in the luxury consumable segment by conceiving & launching the World's first supercar utility NFT where multiple users were able to share the experience of a luxury supercar using blockchain technology. His entrepreneurial achievements and interviews have been published in leading global & regional media including Forbes, Forbes Middle East, Variety, Bloomberg, Gulf News, AlBayan, Khaleej Times, Yahoo Finance, Coin Telegraph and Bitcoin.com.